Resist the pressure of time and develop your full potential and power – new dates in 2023 to be announced
A YOGA AND MEDITATION RETREAT FOR YOUR BODY, MIND AND SOUL
Join me on a journey to paradise in Bali – 8 days and 7 nights in the heart of Ubud
Bali's lush nature and green rice fields are the perfect surroundings for you to reconnect with your inner strength and develop your full potential and power.
On the Island of Gods you can expect daily yoga and meditation, delicious and nourishing food plus plenty of free time to explore the magic island and to go on excursions or to pamper yourself and relax by the pool or in the spa area.
Start a new chapter of your life today with more joy, energy, sparkle and ease and look forward to getting plenty of sun, inner satisfaction, physical balance and a positive mindset in a lovely community of like-minded people.
Some Of The Benefits
Daily Kundalini Yoga and meditation to bring you into harmony and bliss and to develop your full potential and power
You will receive training to be able to resist the pressure of time in a better and healthier way
Free time to explore the magic island and to go on excursions
Connect to nature – the rice fields, palm trees, exotic fruit, coconuts and much more
Spa treatments & pool lounging – pamper yourself and relax
You will eat delicious organic food grown in the local garden
Eco-friendly cottages and an organic restaurant that leave a minimal ecological footprint with almost zero waste
Unforgettable cultural experiences which will expand your horizon and you will return to daily life fully recharged
Program Includes – A Whole Lot!
Accomodation (7 nights) in a single, double or a shared room (3 or 4 people)
Airport transfer from Denpasar airport to our resort in Ubud and back
Daily yoga and meditation: before breakfast 1.5 hours of Kundalini Yoga and before dinner 1.5 hours of yoga and meditation (Kundalini Yoga, elements of Yin Yoga and Restorative Yoga, breathing exercises)
A trip to a local waterfall including a typical Balinese purification ceremony
Cacao Ceremony
One traditional Balinese massage
Full use of the salt-water swimming pool
Complimentary welcome drink
2 daily organic and vegeterian meals (breakfast and dinner – we can provide vegan or gluten-free options – please let me know when you book your spot)
One typical Balinese dinner including Balinese dance
Morning coffee and tea
Free water
WiFi at the resort, and lots of reasons not to need it 😉
Plenty of free time for yourself
Does Not Include
Flights (you can book e.g. via Skyscanner to get the cheapest flights. You can get a return from Europe to Denpasar for between 600 and 700 €. The best and quickest connection is via Singapore.)
Travel insurance
Travel health insurance
Tips
Souvenirs
Beverages (except water, tea and coffee)
Additional food
Additional massage therapy treatments and excursions
Additional night's stay
Private coaching, yoga or Theta Healing® sessions available on request
About me
I have always been passionate about working with people and supporting them to grow to their full potential. That's why I trained and qualified as a 3HO Kundalini Yoga Teacher, Theta Healing® Practitioner and Mental Trainer besides being a musician and the Principal Cor Anglais player of the North German Radio Philharmonic Orchestra (NDR Radiophilharmonie) in Hannover, Germany. I work with people from many different backgrounds. Many of them are musicians, some are business people and others are people that need help with challenging situations in their lives.
The first time I travelled to Bali was in 2013 when I was going through a difficult chapter in my life. The magic and healing energy of this island and the warmth and generosity of the Balinese people saved me and gave me back my strength. Today I am living my life to its full potential. Bali has since become my second home and I spend one to two months each year on this beautiful island.
Besides our programme you have the possibility to enjoy wellness in the form of wonderful Balinese massages and spa treatments on-site. Alternatively you can relax at the salt-water swimming pool and unwind yourself. There is plenty of free time which you can spend on-site or by exploring this beautiful island; I will be there to help and assist you with organising an excursion.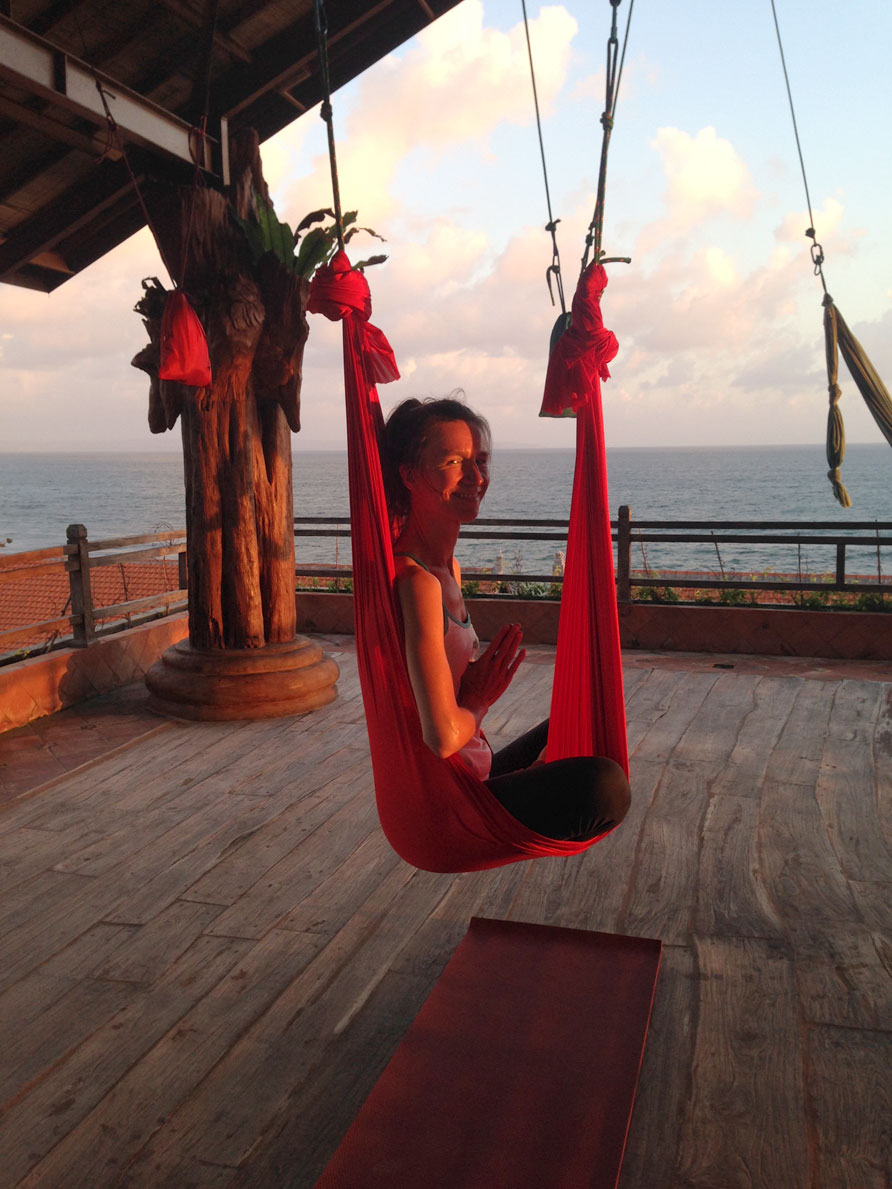 All our local helpers and specialist guides are treated and paid fairly. By joining this retreat you will support local Balinese businesses in every aspect of this holiday thus contributing directly to the local economy and community.
On top of this you have the unique opportunity to book a Theta Healing® Session with me in order to shift deep-seated negative beliefs and patterns that prevent you from discovering your full potential and to live a happy life with ease (special retreat price: 25€ for a taster session of 30 minutes or 90€ for a full session of 90 minutes).
www.music-mentaltraining.de/theta-healing
I'm able to offer a limited number of private sessions and these will be given out on a first come, first serve basis. If you would like to book one of these you can already do so when you make your retreat booking.
Accomodation & Rates
Our resort Swasti Eco Cottages is set only 200m from the mystical Monkey Forest in Central Ubud. Swasti incorporates an organic approach throughout our retreat that respects our Earth, prioritises comfort, friendliness and high quality service, whilst always minimising our impact on nature.
About The Bungalows
The bungalows are traditionally Balinese and made out of a mix of Balinese stone, recycled wood and bamboo. Each room is unique and is equipped with either a fan or air-conditioning.
Room Options
Come alone or with someone, we have all options for you. Most of our retreaters come solo, but it's a beautiful experience to share with a loved one.
Single Room
Total Prize: 1885€
Double Room
Total Prize: 1385€
Shared Room (3 people)
Total Prize: 1185€
Shared Room (4 people)
Total Prize: 985€
All prices are per person. Early bird prizes and special discounts are available on request.
About Bali And Ubud
Bali is just one of the more than 17,000 islands of Indonesia, but without any doubt it is probably the most famous. Discovered by tourism in the 1970s the then rural and untouched island was developed to accommodate both backpackers as well as luxury seeking tourists fascinated by lush rice terraces and untouched jungle.
Natural attractions include a large number of waterfalls in all corners of the island, vast expanses of flowing green rice fields, peaceful lakes, scenic routes overlooking tall cliffs along the Eastern shore and through mountainous central Bali, as well as numerous impressive temples on every corner.
Balinese people will enchant you with big smiles and curious questions such as where you are from and what your name is. They are friendly and typically love talking to foreigners and the Balinese are also known for their distinct sense of humour.
Bali is renowned for its diverse and sophisticated art forms such as painting, sculpture, woodcarving, handcrafts and performing arts.
Ubud is known as Bali's cultural capital and offers a vast range of activities.
How To Get There
You take a plane to Denpasar (Bali). You are responsible for your own flight booking.
From Denpasar airport you take a taxi to our resort in Ubud. This journey takes around 1.5 hours. If you let me know when you are scheduled to arrive at Denpasar airport, I will organize a taxi driver for you who will pick you up at the airport.
On a Monday your room at our resort will be ready from 2pm onwards. We will start with an opening ceremony at 4pm.
Monday a week later the retreat will finish around 11am.
Additional Information
Limited availability for 12 people only so book early to avoid disappointment
All levels welcome
For a stay of 30 days or less, you will receive a visa on arrival after presenting your return flight ticket at the airport
Your passport must be valid for a minimum of 6 months after you have arrived in Bali
How To Book
1. Send an application with the number of people and room request to:

2. You will receive an invoice which will include our terms and conditions, which you will need to sign and return to me.
3. Reserve your place with a deposit of 400€. (The deposit will be calculated towards the total price.)
4. Pay by bank transfer